#Israel just targeted Al Wafaa hospital in the east of #Gaza . #Israel is a war criminal. #GazaUnderAttack  4:27 PM – 10 Jul 2014
---
Rania Khalek ‏@RaniaKhalek  48s 
6-yr-old Kinan Hamad survived an Israeli airstrike on his home, but his family did not.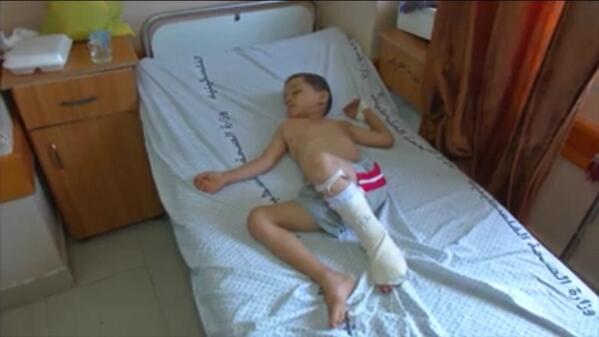 ---
RT @Belalmd12: Breaking: Israeli fire targeted a rehabilitation hospital east of #Gaza, the only rehabilitating center in the strip!!
---
Not appropriate to attack a hospital. Not legal. Disgusting Israeli action. #HumanRights #PrayForPalestina
---
Obama tells Netanyahu of concern Gaza fighting could escalate http://bit.ly/1ji0f6o  #palestine
---
"Our campaign to bomb the resistance to a peaceful conclusion has been a resounding success," said no one, ever.
---
Caution, another Cast Lead lies ahead http://dlvr.it/6HR62y 
---
#Gaza: unconfirmed reports of an Israeli targeting of part of a hospital complex in North Gaza in the past half hour.
---
Deep interactive on Gaza by the team at Al Jazeera English http://ajinteractive.businesscatalyst.com/GazaLifeofSiegeJazeera/index.html …
---
STAND UP 4 PALESTINE ‏@IsraelWC1  2m 
Sderot cinema. Israelis bringing chairs 2 hilltop in Sderot 2 watch latest from Gaza. Clapping when blasts are heard. pic.twitter.com/SUx4XWZaVG
---
"@vijayprashad: Gaza's European Hospital was hit; now Al Wafaa hospital. These are all Geneva Violations. @IntlCrimCourt: are you awake?"